11/1: New this week at Smoke Signals Online…
This week at Smoke Signals Online, the net's premier smoking fetish site, we've added 506 new photos and 17 minutes of new video.
In the photo galleries, we have a great glam shoot with Leah L. who is smoking corks with her strong accomplished style: cone and nose exhales, luscious french inhales and snaps, perfect double drags and smoke rings. And we continue our experiment with internet smoking models, this month presenting Victoria A., although we've taken it a step further with a cameraman shooting the photos and video instead of using self-shot material. Victoria shows good straightforward style.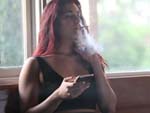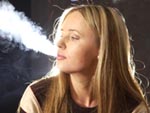 In the video galleries, Ashlee A. and Kimberlee are in bras, as Ashlee smokes with nice straightforward style and smoke rings – and teaches non-smoker Kimberlee how to inhale. After some coughing at first, Kimberlee turns out to be a pretty good, and eager, student. Then, in sexy lingerie, Jen C. devours a cork 100 and shows off her great style, with huge inhales, mouth and nose exhales, french inhales (and recycled frenches) and smoke rings.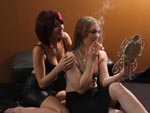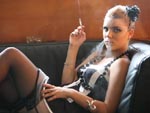 You can see sample clips here and here.
Come join us!