1/15: New this week at Smoke Signals Online…
This week at Smoke Signals Online, the net's original and largest smoking fetish site, we've added 917 new photos and 18 minutes of video.
Pretty Zora returns to the photo galleries for three glam and casual scenes showcasing her terrific deep drags, thick mouth and nose exhales, residual nose exhales and smoke play. She plays with her hair, talks on the phone, toys around with a set of handcuffs – but the focus is clearly on her great smoking. Then raven-haired Mary is relaxing in a jean jacket on her bed and checking her phone as she enjoys an all-white. The nice thing about jean jackets is that they're easy to take off, and Mary wastes no time doing it so she can start a lengthy and very satisfying smoky masturbation session as she smokes cigarette after cigarette with huge inhales and enormous mouth and nose exhales, many looking right at you as she gets off.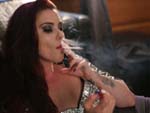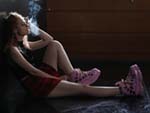 There are two very different looks for Mel L. in the video galleries – super-hot lingerie and a sedate blue dress – but the same great smoking. Thick mouth exhales, recycled french inhales and smoke play, and even some dangles and snaps. Then in a short and very sweet shoot, cute Renee files her nails and enjoys a cork 100, taking deep drags and showing a great assortment of mouth and nose exhales, french inhales and snaps, smoke rings and right-at-you exhales with a pretty smile. We don't know if she'll be back, but we sure hope so.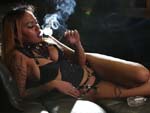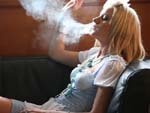 You can see sample clips here and here.
Come join us!