10/22: New this week at Smoke Signals Online…
This week at Smoke Signals Online, the net's premier smoking fetish site, we've added 924 new photos and 20 minutes of smoking fetish video, shot in high-def.
In the photo galleries Shirin shows some of the best sexy, accomplished smoking we've featured in a while, in three shoots in the photo galleries; there are multiple drags galore including a terrific hands-free sequence, perfect snap and french inhales, perfect mouth exhales, and lots of smoke rings and deliberately recycled french inhales. And Sue T. debuts in the videocap galleries with a nice shoot, showing beautiful cone exhales – many of them right at you.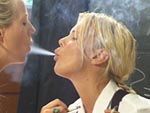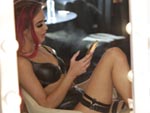 In the video galleries, Gitta continues her smoky blow job to a messy facial conclusion; throughout, she takes deep inhales and shows beautiful mouth/nose exhales onto her man's organ – and after the finish, she lights up one more time to enjoy what's left of the cum and the smoke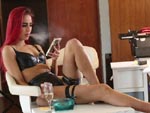 You can see sample clips here.
And you can see free previews from all of our sites here. Come join us!