1/22: New this week at Smoke Signals Online…
This week at Smoke Signals Online, the net's original and largest smoking fetish site, we've added 509 new photos and 18 minutes of video.
Liza A. is back for a great solo photo shoot, enjoying Marlboro 100s, touching up her hair and makeup,
and taking selfies of herself smoking. She shows deep drags, followed by nice cone and mouth/nose exhales throughout. Then Sherie enjoys a cork 100 in sexy red lingerie, with very deep inhales followed by mouth exhales, nose exhales and some messy snaps.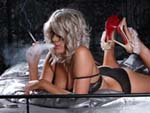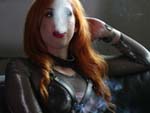 In the video gallery, glamorous Madalina has just arrived home and really needs a cigarette, so she sits down on the stairs to light up an all-white. She can't control her other urges, though, so one cigarette becomes another and another as she strips down and works herself to orgasm – taking big drags and letting loose with enormous, thick cone exhales throughout.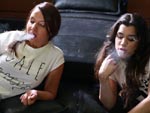 You can see a sample clip here.
Come join us!