7/22: New this week at Smoke Signals Online…
This week at Smoke Signals Online, the net's original and largest smoking fetish site, we've added 388 new photos and 18 minutes of video.
We've already featured a great duo shoot with Sarah F. and Shirin, but we've dug out Sarah's first-ever shoot which was also done with Shirin – who shows her the ropes. We see all the styles you can imagine; mouth and nose exhales, open-mouth inhales, frenches, smoke rings and more. Then adorable Miri is daydreaming on her bed in a leather jacket, with a rose – and of course, a Marlboro 100.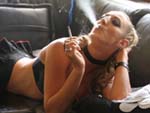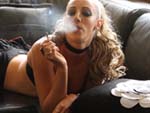 In the video galleries, Milly's in sexy leather pants and jacket, and she's not at all concerned about keeping the jacket closed – as she takes cheek-hollowing drags on her all whites and shows great thick exhales along with a few smoke rings. And Cassie B. smokes a cork 100 in deliberate fashion – with slow mouth and nose exhales – and her fuzzy sweater wide open.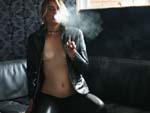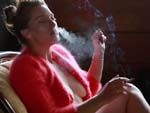 You can see sample clips here and here.
Come join us!