4/22: New this week at Smoke Signals Online…
This week at Smoke Signals Online, the net's original and largest smoking fetish site, we've added 1144 new photos and 11 minutes of video.
Charli shines in a casual glamour shoot in the photo galleries with Newport 100s. Huge mouth exhales (some right-at-you), french and snap inhales, smoke rings and dangles. Just what you'd expect from this smoking superstar. Then Susan B. is working on her laptop (the glasses are a good look for her), not only showing her amazing french inhales and mouth exhales, but working on her recycled frenches and rings. She's getting there, too.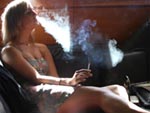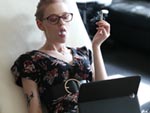 Gabi is still adorable in the video gallery, but she's sporting a new, more sophisticated look in two glam shoots, one with her hair up and another as she does her hair and makeup. There are snaps, mouth and nose exhales, snaps and a few frenches, as well as some smoke rings (even though she tells the cameraman that for her, "it's hard not to blow rings" – even when she's in a more sophisticated setting.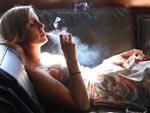 You can see a sample clip here.
Come join us!