4/15: New this week at Smoke Signals Online…
This week at Smoke Signals Online, the net's original and largest smoking fetish site, we've added 763 new photos and 14 minutes of video.
Susan B. is relaxing in the photo galleries in a black bra and enjoying a cork 100, showing us deep drags followed by her trademark french inhales and nice mouth exhales. Nice sexy smiles, too. Then Alia is sizzling in this high-res photo shoot, wearing a provocative top, cut-offs and thigh-high boots; she dangles and drags deep on her cork 100s, gazing into your eyes as she exhales.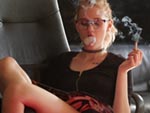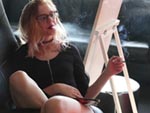 Aymie sparkles in three glamour shoots in the video gallery wearing a black and with elbow-length gloves,
two with Marlboro 100s and one with lipstick-stained Virginia Slims 120s. And there's a terrific mixture
of mouth and nose exhales, snap and french inhales, dangles and double drags throughout.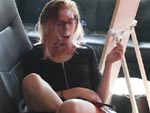 You can see a sample clip here.
Come join us!