8/1: New this week at Smoke Signals Online…
This week at Smoke Signals Online, the net's original and largest smoking fetish site, we've added 1115 new photos and 20 minutes of video.
In the photo galleries, Cherry B. is in tank top and panties, followed by lingerie and a casual/glam shoot; she smokes Marlboro 100s and VS 120s with fabulous style including deep drags, mouth and lots of nose exhales, dangles and right-at-you exhales. Then sexy, redhead Ana is in sexy white lingerie and smoking all-whites, as she gets comfortable, gets nude and gets off while showing her natural nose exhales followed by luxurious mouth exhales.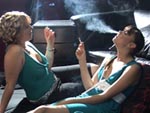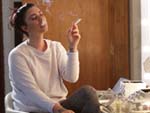 In the video galleries, Mel L. is sizzling in two shoots, first in black lingerie and long leather boots, and then in a hot PVC one-piece outfit (still with boots). She's not just sizzling, of course, she's smoking – cork 100s with her deep inhales, thick and slow mouth exhales, and recycled french inhales.
And we've already featured a great duo shoot with Sarah F. and Shirin, but we've dug out Sarah's first-ever shoot which was also done with Shirin – who shows her the ropes. We see all the styles you can imagine; mouth and nose exhales, open-mouth inhales, frenches, smoke rings and playful chat.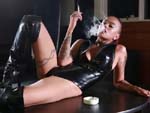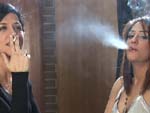 You can see sample clips here and here.
Come join us!