8/1: New this week at Smoke Signals Online…
This week at Smoke Signals Online, the net's original and largest smoking fetish site, we've added 918 new photos and 19 minutes of video.
In the photo galleries, Leah L. and Loretta take turns doing each others' hair (while they both smoke corks, of course), make plans, and tease you as you watch – and we probably don't have to tell you that there are tons of deep drags, snaps and frenches, mouth and nose exhales, and dangles – most of them done to show off for you. Then, sexy Deea starts out casual and lights up a slim 120, but then gets nude and continues to smoke non-stop as she enjoys her smoke, her body, and her pussy.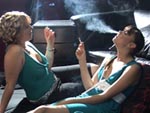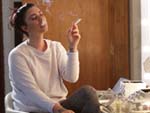 In the video galleries, we have a terrific older shoot dug out from the archives and never before seen. sexy Maddie joins with Kate RS to smoke (VS 120 for Maddie, cork for Kate), chat, and show off their techniques. We see deep drags, snaps and frenches, mouth, nose and combined exhales, smoke rings and a whole lot of fabulous smoking fun. Then we have two nice lingerie shoots with Sherie (one in closeup and one quite smoky) feature her smoking corks with deep inhales, small snaps, and both mouth and nose exhales.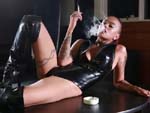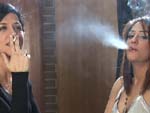 You can see sample clips here and here.
Come join us!