6/1: New this week at Smoke Signals Online…
This week at Smoke Signals Online, the net's premier smoking fetish site, we've added 886 new photos and 18 minutes of new video.
In the photo galleries, sexy blonde Emmsy debuts in two shoots, with deep drags and strong straightforward exhales (some right-at-you) and dangles, as she reads and puts on makeup. Then in our continuing search for new models in different places, we're happy to introduce Isis. She's an extremely heavy smoker from Eastern Europe; she enjoys a number of corks with deep and double inhales, and mouth and nose exhales along with her beloved smoke play.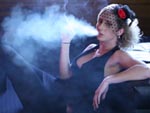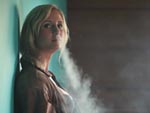 In the video galleries, Ashlee B. smokes in the dressing room in panties while combing her hair and relaxing, and then in a great glamour shoot. There are nice mouth exhales, dangles and hands-free smoking as well as some smoke play.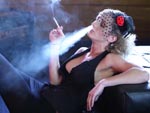 You can see a sample clip here.
Come join us!