11/1: New this week at Smoke Signals Online…
This week at Smoke Signals Online, the net's original and largest smoking fetish site, we've added 670 new photos and 19 minutes of video.
In the photo galleries, in glamour shoots, Cherry B. enjoys champagne with a Marlboro 100, and then relaxes with an elegant VS 120; she takes extremely deep drags, with slow mouth and nose exhales along with residuals, as well as some dangles. Then big-busted Debby dangles corks in lingerie while working on her hair, and then while putting on her lipstick after getting dressed.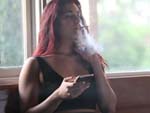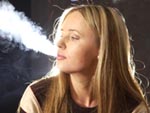 In the video gallery, Kim B. is going casual – except for her fishnets – as she devours a Virginia Slims 120 and a Marlboro 100 with enormous inhales, big snap and snap/french inhales, and huge exhales, not even slowing down while she touches up her nails and plays a bit on her phone. Then she smokes corks in bra, shorts and a boa, with more of her incredible style plus some hands-free smoking for good measure.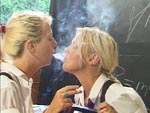 You can see a sample clip here.
Come join us!