3/1: New this week at Smoke Signals Online…
This week at Smoke Signals Online, the net's premier smoking fetish site, we've added 849 new photos and 19 minutes of new video.
In the photo galleries, sexy Aymie dangles as she puts on makeup, and shows french/snap inhales, mouth and nose exhales, smoking corks throughout her two shoots. Then cute Nina is in bra and panties; she loses the panties and then the bra to enjoy her body as she enjoys Marlboro Menthol Light 100s, showing pretty mouth, nose and mouth/nose exhales throughout the masturbation.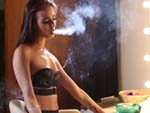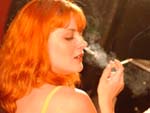 In the video gallery, after a long absence, accomplished smoker Shirin makes her welcome return to the video gallery, chaining in a lingerie glamour shoot. We can't think of any technique she doesn't show with exquisite style, but her double drags, snaps and french inhales definitely stand out. She then teams with Zora for several duo shoots; Zora more than holds up her end with nice nose exhales and dangles, as the pair smokes a number of corks at the makeup table and playing around with their jewelry.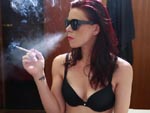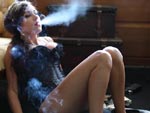 You can see sample clips here and here.
Come join us!