12/22: New this week at Smoke Signals Online…
This week at Smoke Signals Online, the net's original and largest smoking fetish site, we've added 1145 new photos and 24 minutes of video.
You've asked for more of Stephanie D., so here she is in a black bra and sweater, and a casual shoot with sunglasses; she smokes cork 100s with deep drags, nice snaps, thick exhales and some smoke rings. Then Sherie relaxes in a summery shoot for the photo galleries, enjoying a Marlboro 100 with deep drags and pretty mouth and nose exhales.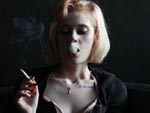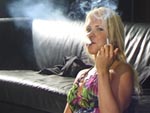 In the video gallery, sizzling-hot Sasha is stylish in black sweater, black leather pants and black glasses, making a nice contrast with her all-white cigarettes and fluffy white exhales. But after a brief stop at black lingerie, she ends up naked with only the black glasses – and her pink dildo – left for the rest of her classy yet sexy smoky masturbation session.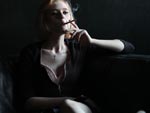 You can see a sample clip here.
Come join us!