3/22: New this week at Smoke Signals Online…
This week at Smoke Signals Online, the net's premier smoking fetish site, we've added 406 new photos and 17 minutes of new video.
In the photo galleries, Leah L. shows off her french inhales, snaps and open-mouth inhales, along with beautiful cones and some nose exhales, in glamour shoots. And in the high-res galleries, we have a sexy and playful shoot with Tash W. and Burnetta with lingerie, dress-up and a little touching as they share a cork.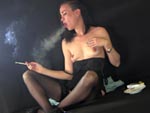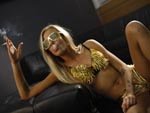 In the video galleries, Holli returns for a lengthy smoking blow job, with deep drags and small snap inhales as she chains all-white 100s, blowing smoke on her boyfriend and exhaling through her nose as she goes down, all the way to a messy finish.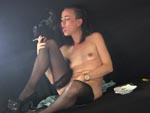 You can see a sample clip here.
Come join us!