9/1: New this week at Smoke Signals Online…
This week at Smoke Signals Online, the net's original and largest smoking fetish site, we've added 1342 new photos and 20 minutes of video.
In the photo galleries, Charlize shines in two glam, retro shoots (well, retro except for her VS 120s) in the photo galleries, as she watches herself in a mirror and reads while showing off open-mouth and snap inhales, mouth and nose exhales, smoke rings and just an overall fabulous look. Then blonde knockout Michelle goes to town and works herself to orgasm, smoking 120s with big drags, long holds, some snaps, and long stream mouth exhales (plus some nose exhales).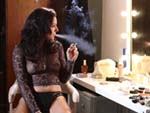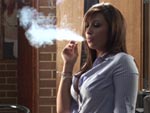 In the video galleries, Miller shows off her deep inhales and thick nose and mouth exhales, many of them right-at-you – and talks about smoking escapades when she was in school. Then in a casual shoot, cute Chrissi smokes corks, showing very deep drags with mouth and lots of nose exhales, and a knowing look.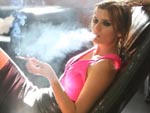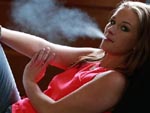 You can see sample clips here and here.
Come join us!