7/22: New this week at Smoke Signals Online…
This week at Smoke Signals Online, the net's premier smoking fetish site, we've added 249 new photos and 10 minutes of new video.
In the photo galleries, Kate T. relaxes in a long nightgown as she enjoys several VS 120s, puts on lipstick (can't smoke without it, right?) and takes selfies of herself. There are deep inhales and beautiful cone exhales, some right-at-you. Then pretty brunette Siena smokes an all-white in shirt and panties, with deep inhales, mouth exhales and some smoke play.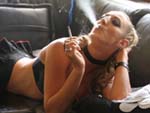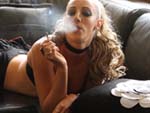 In the video gallery, Tonya and Sally hang out and smoke cork 100s as they talk about smoking and their smoking histories – they light up again, start sharing the cigarette and their smoke, and then as Sally opens Tonya's sweater, they move on to smoky kisses and touching.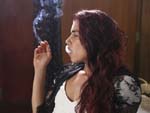 You can see a sample clip here.
Come join us!