New smoking fetish videos added at Smoking Flicks….
We've added new smoking fetish movies at Smoking Flicks – the smoking movie streaming and video download site.
First, in a new IRL Platinum video, Kady, Melani and Bianca are smoking in the locker room; they're trying to motivate themselves to work out, but they'd much rather hang out, smoke, show off their snaps and frenches, and talk about smoking. They finally leave to work out after two cigarettes – but only a few minutes later, they're back in the locker room, lighting up again. That lengthy set of scenes is followed by Gia, smoking a 120 with all nostril exhales in an elegant scene. Finally, Olivia chains cork 100s as she makes sure her lipstick is perfect and then relaxes; we see her small usual natural snap inhale throughout the scene.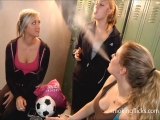 In a Random Snaps/Smoke Signals video compilation, we have wonderful sultry smoking from Casey-Lee with great nose exhales, smoke rings, snaps and frenches, sexy solo shoots with Fifi's accomplished smoking, flapper and stripper looks from Aprille, and girl-next-door shoots with Mieke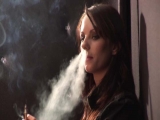 And Annie Vox, an original smoke goddess on the web, in some archive clips edited into a full-length video. There are lots and lots of french inhales and snaps, thick mouch and nose exhales, and great looks. The video is analog quality but the smoking is top quality smoking.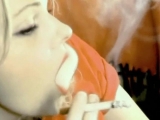 Come check them out at Smoking Flicks