3/22: Added the last two weeks at Smoke Signals Online…
The last two weeks at Smoke Signals Online, the net's original and largest smoking fetish site, we've added 2087 new photos and 32 minutes of video.
In the photo and video galleries, Ellie A.'s
Ellie A.'s back in three beautiful shoots. In the first two, she's smoking cork 100s in lingerie and faux fur by the waterside; the smoke is lit beautifully by the sun as she takes deep drags and shows lots of dangles, snaps and thick cone exhales right-at-you. Then she's back inside, again in lingerie and fur (and garters) enjoying a VS 120 with great smoking, including more RAY exhales plus dangles and hands-free smoking, french inhales, smoke rings – and a deeply-stained white filter.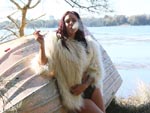 Also in the photo and video galleries, sophisticated Eve A. is home from work, still in her short skirt, stockings and high heels – but not for long. She lights the first in a chain of Eve 120s (her favorite brand, naturally), slowly strips down to her sexy black lingerie, and decides it's time for some "me" time. By her third cigarette, Eve is more than ready to get busy with her fingers and bring herself to a strong, shaky and satisfying orgasm. Throughout, we see deep drags, natural snap/open-mouth inhales, and thick mouth exhales.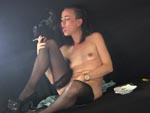 And Siri, Bianca and Susan are out to get some serious sun – and of course, they brought their Marlboro 100s with them.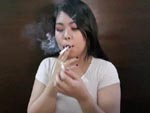 You can see sample clips here and here.
Come join us!