3/15: New this week at Smoke Signals Online…
This week at Smoke Signals Online, the net's original and largest smoking fetish site, we've added 1339 new photos and 14 minutes of video.
We have three shoots in the photo galleries from 18-year old Gabi and Sam B.; first, Gabi shows off her snaps, frenches and rings for Sam, then tries to teach her (without much success), and finally the pair smokes in the dressing room as they share two cigarettes. Then Sinai chats with the cameraman gets interrupted by a phone call, but it doesn't interrupt her smoking as she keeps going with deep drags, thick exhales, snaps, and – of course – beautiful smoke rings.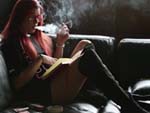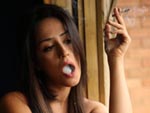 In the video gallery, Brigitte is relaxing on the couch with a Newport 100, in bra, panties, boots and an open shirt. Then Sam B. is back and totally casual, but looking glamorous as she enjoys an all-white in the dressing room with deep drags, lots of double pumps, and thick mouth exhales.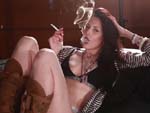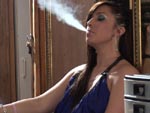 You can see sample clips here here.
Come join us!