9/8: New this week at Smoke Signals Online…
This week at Smoke Signals Online, the net's original and largest smoking fetish site, we've added 1171 new photos and 7 minutes of video.
In two great shoots in the photo galleries, Charli shows off everything you could ever want to see. First, she enjoys a cork in the dressing room as she checks out her makeup and her hair; then, she's in a leather jacket chaining Marlboro 100s. We see fabulous mouth and nose exhales, snaps and frenches, hands-free smoking and smoke rings in these virtuoso sessions.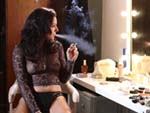 In the photo and video galleries, Lyn is featured in a beautiful archive shoot enjoying a VS 120 in rapid-fire style, with deep inhales and thick, long cone exhales.
You can see a sample clip here.
Come join us!