5/15: New this week at Smoke Signals Online…
This week at Smoke Signals Online, the net's original and largest smoking fetish site, we've added 848 new photos and 16 minutes of video.
Whenever we have a visit from Ellie A., the first thing we always hear is "more Ellie!" So here she is again in the photo galleries enjoying Newport 100s and relaxing, with her always great cone and nose exhales, snaps, smoke rings and dangles. Then Cass and Amelia hang out at a table and on the couch, smoking Marlboro 100s and showing off their strong straightforward smoking with nice drags, mouth and mouth/nose exhales.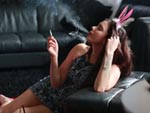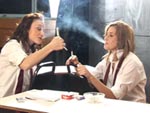 And we have a double dip with Ellie in the video gallery. She enjoys Marlboro 100s in two great casual shoots (one in flannel shirt and cutoffs, another in a long sweater), with her usual terrific mouth and
nose exhales (lots of those!) and snaps, plus some great right-at-you exhales.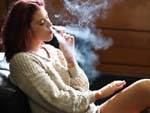 You can see a sample clip here.
Come join us!