1/8: New this week at Smoke Signals Online…
This week at Smoke Signals Online, the net's original and largest smoking fetish site, we've added 505 new photos and 16 minutes of video.
In the photo galleries, cute Renee files her nails and enjoys a cork 100, taking deep drags and showing a great assortment of mouth and nose exhales, french inhales and snaps, smoke rings and right-at-you exhales with a pretty smile. We don't know if she'll be back, but we sure hope so. Then Charli enjoys a cork 100 in a casual shoot as she chats with the cameraman about topics like learning to do snaps – while showing not only snaps, but smoke rings and thick exhales to go with her cheek-hollowing drags.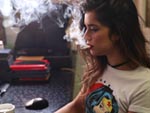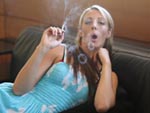 Redheaded Andrea is smoking a series of all-whites in the video gallery with big inhales, slight snaps and thick mouth, nose and mouth/nose exhales – and she loves the fact that you're watching. She slips out of her dress to tease herself and masturbate in two different positions, keeping eye contact with you the entire time.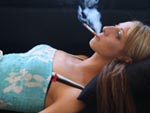 You can see a sample clip here.
Come join us!