1/1: New this week at Smoke Signals Online…
This week at Smoke Signals Online, the net's original and largest smoking fetish site, we've added 860 new photos and 19 minutes of video.
There are two very different looks for Mel L. in the photo galleries – super-hot lingerie and a sedate blue dress – but the same great smoking: thick mouth exhales, recycled french inhales and smoke play, and even some dangles and snaps. Then redheaded Andrea is smoking a series of all-whites with big inhales, slight snaps and thick mouth, nose and mouth/nose exhales – and she loves the fact that you're watching. She slips out of her dress to tease herself and masturbate in two different positions, keeping eye contact with you the entire time.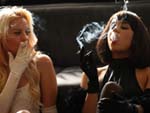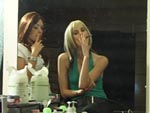 In the video galleries, Charli's glammed out at the makeup mirror, doing her hair and applying powder as she smokes a VS 120 with lots of dangles and hands-free smoking along with playful mouth exhales, nose exhales, snaps and french inhales. She calls Tiffany over to give her some help with her makeup, but it turns into a real smokefest with Tiffany powering through two Marlboro 100s and the pair one-ups each other with their smoking style. We see lots of dangles and hands-free smoking, snaps, rings, frenches and a ton of smoke rings, in one of the best duo scenes we've had in quite a while. Then in a solo casual shoot, Charli powers through a cork with big drags, mouth and nose exhales, snaps and smoke rings.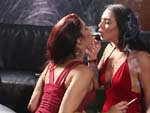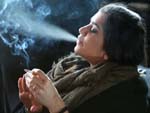 You can see sample clips here and here.
Come join us!