4/22: New this week at Smoke Signals Online…
This week at Smoke Signals Online, the net's original and largest smoking fetish site, we've added 328 new photos and 13 minutes of video.
Charli and Elaine are back in the photo galleries dressed in denim tops and tennis shoes, cuddling on the couch and enjoying Marlboro 100s. And there are snaps and frenches, thick mouth and nose exhales on display, of course. Then Chloe A. and Rosy take a break from their shoot and what do they do? Have a cigarette, of course! They smoke in "candid" style (they know the camera's on, but they weren't smoking for that purpose) as they kid around, showing nice mouth exhales throughout.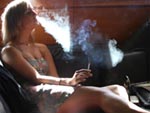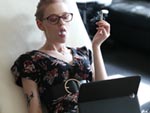 In the video gallery, Mel L. is in sexy white lingerie – and has hot pink highlights in her long hair – as she relaxes with VS 120s. Her exhales are thick and beautiful, and her recycled french inhales are (as always) terrific.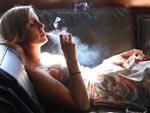 You can see a sample clip here.
Come join us!