4/15: New this week at Smoke Signals Online…
This week at Smoke Signals Online, the net's original and largest smoking fetish site, we've added 1696 new photos and 19 minutes of video.
Zora and Shirin put on a smoking clinic with their corks 100s in the photo galleries, as Shirin does her nails (and Zora's) and the duo takes selfies. There's an incredible mix of mouth, nose and mouth/nose exhales, snaps, recycled french inhales, smoke rings and double drags. Then Zora shines in two solo glam shoots (one in negligee) as she enjoys Marlboro 100s. And Mel L. is in sexy white lingerie – and has hot pink highlights in her long hair – as she relaxes with VS 120s. Her exhales are thick and beautiful, and her recycled french inhales are (as always) terrific.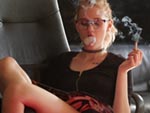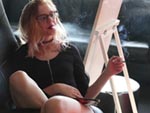 In the video galleries, Charli and Elaine deliver almost anything we'd want to see in a shoot: Charli lights an all-white while Elaine chooses a Newport 100 (halfway through, they trade cigarettes) and show us ultra-thick mouth and nose exhales, snaps and smoke rings, Charli tries to teach Elaine how to french inhale, and there's lots of talk about smoking (including "start smoking" details). Then Charli enjoys a Marlboro 100 while doing a little work; she puts more work into her smoking, though, with mouth and nose exhales, frenches and snaps, plus some smoke rings.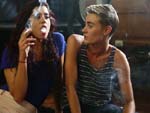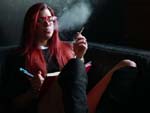 You can see sample clips here and here.
Come join us!