4/8: New this week at Smoke Signals Online…
This week at Smoke Signals Online, the net's original and largest smoking fetish site, we've added 645 new photos and 9 minutes of video.
Charli's dyed her hair red but hasn't changed her outstanding smoking style. In a casual/glam shoot in the photo galleries, in a leather jacket and leggings, she dangles her Marlboro 100, does lots of snaps and shows her always-terrific mouth exhales and double drags. Then Jen C. and Aymie share a Marlboro 100 as they play cards and chat; we probably don't have to tell you that there are tons of mouth, nose and combined exhales, french and recycled french inhales, smoke rings — well, you've seen Jen and Aymie show off before, so we didn't have to tell you that, right?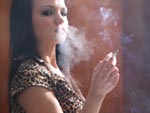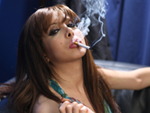 In the video gallery, Chloe A., Rosy and Cherie hang out in robes, sipping wine and chatting – all smoking Marlboro 100s as Chloe tries to teach Cherie and Rosy how to french inhale (without much success). There are lots of great cone exhales and smoke rings, and a few nice nose exhales, to round out the shoot.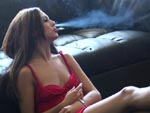 You can see a sample clip here.
Come join us!