5/8: New this week at Smoke Signals Online…
This week at Smoke Signals Online, the net's original and largest smoking fetish site, we've added 249 new photos and 21 minutes of video.
Katie C. is in full pin-up mode in the photo galleries (sexy bra and panties with garters, stockings and boots), reclining on her couch with an all-white and showing glamorous, thick cone exhales after her deep inhales. Then Cilla's in a pretty dress, enjoying a cork 100 showing mouth exhales, mouth/nose exhales and lots of dangles.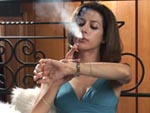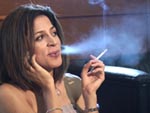 In the video gallery, Mel L. shows her very sexy side, first in a shoot wearing a leather-and-mesh see-through bra, and then topless with some of the hottest heels anywhere. We see her deep drags, thick and oozing exhales, and recycled french inhales throughout with a lot of nice closeups.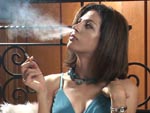 You can see a sample clip here.
Come join us!