5/1: New this week at Smoke Signals Online…
This week at Smoke Signals Online, the net's original and largest smoking fetish site, we've added 1441 new photos and 20 minutes of video.
Kim B. is in black lingerie with bedroom eyes in the photo galleries, as she enjoys several cork 100s.
There are oodles of mouth and nose exhales, snap/french inhales, hands-free smoking – and of course, her picture perfect mouth/nose exhales. Then Mel L. shows her very sexy side, first in a shoot wearing a leather-and-mesh see-through bra, and then topless with some of the hottest heels anywhere. We see her deep drags, thick and oozing exhales, and recycled french inhales throughout with a lot of nice closeups.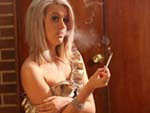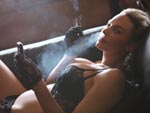 In the video galleries Holly A. has her own special style: red hair, tats and small cigars. She polishes off one of her cigars as she relaxes in bra and panties, with full inhales and thick mouth exhales, many right at you. Then Lyn is in lingerie and smokes a VS 120 rapid fire, mostly in closeup, with great straightforward mouth and mouth/nose exhales.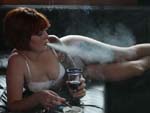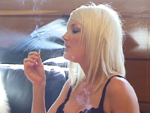 You can see sample clips here and here.
Come join us!