11/15: New this week at Smoke Signals Online…
This week at Smoke Signals Online, the net's original and largest smoking fetish site, we've added 1494 new photos and 18 minutes of video.
We once met a girl who continuously blew smoke rings. We asked her if she always blew rings, and we still remember her answer: "Always. On every single drag."
Sinai doesn't literally blow them on EVERY drag, but she comes awfully close, since she's particularly focused on blowing thick rings. We see the evidence in three casual shoots and one glamour shoot with Marlboro Light 100s, Marlboro 100s (at one point she puts out her ML 100 halfway through to light a Marlboro 100 because she needed "a real cigarette") and a VS 120. It's not just rings, though; there are also huge drags, open-mouth and snap inhales, mouth and nose exhales and right-at-you exhales. There are nice closeups as well, in this great debut.
Then redheaded Andrea is a cutie with her clothes on, smoking all-whites with enormous inhales, thick mouth and nose exhales, and some slight snaps and a few french inhales. She's a hottie with her clothes off, though, slowly working her pussy up to a frantic finish as she continues her deep drags and big exhales until she's done.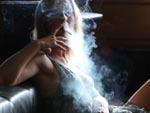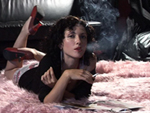 In the video gallery, Charnay is the blonde, girl-next-door – if the blonde who lives next door to you loves smoking, smokes well and is really sexy. In three casual shoots she smokes corks and hand-rolled cigarettes, with deep drags, slow oozing mouth exhales (many right-at-you) and some smoke rings. She also tells her "start smoking" story.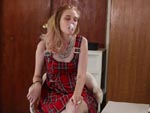 You can see a sample clip here.
Come join us!