8/15: New this week at Smoke Signals Online…
This week at Smoke Signals Online, the net's original and largest smoking fetish site, we've added 1234 new photos and 15 minutes of video.
In the photo galleries, Susan B. enjoys Marlboro 100s in glamour and casual shoots (and she's added a piercing since her last shoot). We see a fabulous assortment of mouth and nose exhales, snaps and dangles, and of course her amazing natural french inhales. Then Charli's in the dressing room, putting on eye makeup and deciding what to wear; then she's relaxing in bra and panties and taking a few selfies. She smokes a cork 100 and then a VS 120 with the full assortment of snap and french inhales, mouth and nose exhales, dangles and double drags throughout the shoots.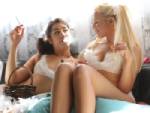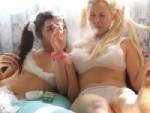 We've dug out a real gem from the archives for the video gallery, featuring young Erin P. and Tash in two of their very first shoots for us. Smoking all-whites, they show off thick mouth, nose and combined exhales, smoke rings, double drags and talking exhales – and are just as expert at the techniques as they were later on in their smoking video careers. They also chat about their very shoots (and how old they were), and other great smoking topics.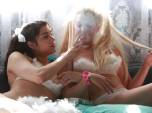 You can see a sample clip here.
Come join us!