April 2020: Added this month at Smoke Signals Online…
During April at Smoke Signals Online, the net's original and largest smoking fetish site, we've added 1830 new photos and 48 minutes of video.
In the photo and video galleries, Sarah F. shows great style in three nice shoots; first, she's lying down in a cute (and short) dress, then putting on her makeup in the dressing room, and finally smoking Marlboro 100s in a hot casual/glamour scene. Throughout we see thick mouth, nose and mouth/nose exhales, as well as a number of dangles.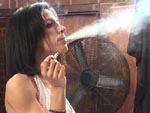 Zorah is in red lingerie and heels, as she demonstrates her morning makeup routine – and enjoys a Marlboro 100. She shows us nice mouth and nose exhales, as well as accomplished hands-free smoking.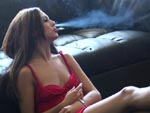 Susan B. is in a low-cut top and short schoolgirl shirt; she's finally gotten her snap inhales working,
and she shows some nice ones along with her usual gorgeous french inhales and some pretty, thick mouth exhales.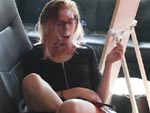 And in two great casual/glamour shoots, Jennie A. puts on a show with mouth, nose, mouth/nose and right-at-you exhales after her deep drags, practices her french inhales ("I almost did it!") and shows us a chain lightup as well.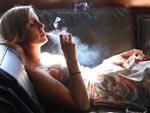 You can see sample clips here,
here, here and here.
Come join us!