3/22: New this week at Smoke Signals Online…
This week at Smoke Signals Online, the net's original and largest smoking fetish site, we've added 740 new photos and 16 minutes of video.
Clad in a shirt and panties, Milly debuts in the photo galleries with cheek-hollowing drags, fluffy mouth exhales, dangles and smoke rings. Then with a summer glam look, blonde cutie Casey C. shows off her smoking skills as she enjoys a VS 120 with mouth and mouth/nose exhales, slight snaps and smoke rings.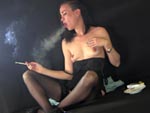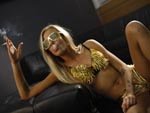 In the video gallery, lovely Elena A. smokes one all-white after another with big drags and thick mouth exhales (many right-at-you) – until she's removed all her clothes, gotten herself hot and then gotten herself off.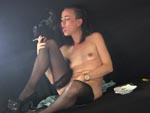 You can see a sample clip here.
Come join us!