11/1: New this week at Smoke Signals Online…
This week at Smoke Signals Online, the net's original and largest smoking fetish site, we've added 953 new photos and 13 minutes of video.
In two sedate shoots in the photo galleries, Charli smokes a Marlboro 100 and a VS 120; at times she puts on glasses or applies lip gloss, but throughout she shows off her amazing snaps, frenches, mouth and nose exhales, dangles and smoke rings. Impressive.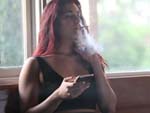 And in both the photo and video galleries, Susan B. in her jammies and having a few cigarettes before bed. She drags deeply on her corks, with mouth, nose and her always-delicious french inhales.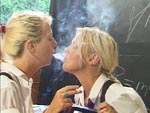 You can see a sample clip here.
Come join us!