THE BIG ANNOUNCEMENT ABOUT SMOKE SIGNALS ONLINE, IS DEFINITELY COMING SOON – WE'RE STILL TRYING TO WRESTLE THE SITE TO THE GROUND (TECHNICALLY, THAT IS) TO MAKE IT DO WHAT WE WANT. SOON, WE PROMISE!
1/1: New this week at Smoke Signals Online…
This week at Smoke Signals Online, the net's original and largest smoking fetish site, we've added 1127 new photos and 13 minutes of video.
Charli's back at it again! This time she's working with Marilyn in a sexy scene in the photo galleries,
giving her a VS 120 (as she smokes a cork 100) and teaching her to inhale properly. The duo then returns in a casual shoot, as Charli shares a Marlboro Menthol 100 with Marilyn and shows off her smoking skills;
Marilyn takes a few drags, but spends most of the time watching Charli and absorbing the lessons. Then hairdressing before a shoot is punctuated by both Joyce and Beck trying Black Russians, with nice style and some good closeups.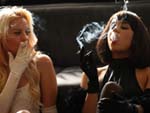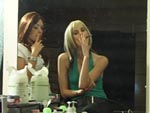 Adorable Gabi shows her sexy and serious sides in two great video gallery shoots; first she's enjoying a VS 120 in a glamour shoot, as she shows us fabulous snap inhales along with mouth and nose exhales (plus a few smoke rings), then she's smoking a Marlboro 100 as she works at her computer with lots of dangles and hands-free smoking.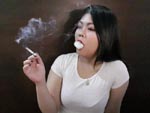 You can see a sample clip here.
Come join us!