2/22: Added the last two weeks at Smoke Signals Online…
The last two weeks at Smoke Signals Online, the net's original and largest smoking fetish site, we've added 2486 new photos and 31 minutes of video.
In the photo and video galleries, in two casual shoots, Charli shows off all she's got (smoking-wise, of course). Deep drags with mouth and nose exhales, snaps and frenches, right-at-you exhales and smoke rings – and her love of everything having to do with smoking. There's also some great dialogue talking about how she teaches her technique to others.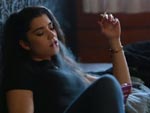 Also in the photo and video galleries, Eve A. chains her favorite cigarettes – Eve 120s, of course – as she slowly gets herself excited and then works herself to a very satisfying smoky orgasm. We see huge drags, thick mouth and nose exhales with lots of mouth and nose residuals, nice natural snaps and some hands-free smoking as she spends a very enjoyable session with us.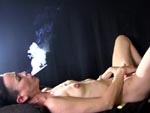 And Aymie returns to the photo galleries with another Marlboro 100 to check out her lingerie and accessories, of course showing her sexy smoking style – with a ton of dangles.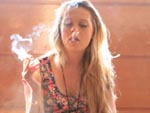 You can see sample clips here and here.
Come join us!