3/1: New this week at Smoke Signals Online…
This week at Smoke Signals Online, the net's original and largest smoking fetish site, we've added 1117 new photos and 17 minutes of video.
Beautiful Hazel makes her photo gallery debut with us in two great lingerie shoots in the dressing room; she takes deep drags on her corks, followed by thick slow mouth and mouth/nose exhales and a number of residual exhales as she admires herself in the mirror. And sexy redhead Ashlee personifies summer in her yellow top and flowered skirt; she enjoys a Marlboro 100 in this great high resolution modeling shoot.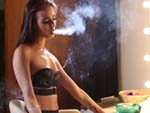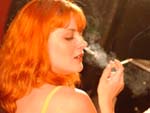 Heavy-smoking Mel L. enjoys corks in two lingerie shoots (and champagne in one) in the video gallery, with her always sexy big drags, thick exhales, smoke play and recycled french inhales. It's been a while since Mel visited, but it's always a delight to feature her beautiful smoking style.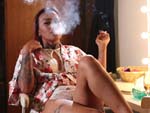 You can see a sample clip here.
Come join us!