1/15: New this week at Smoke Signals Online…
This week at Smoke Signals Online, the net's original and largest smoking fetish site, we've added 798 new photos and 17 minutes of video.
In a glamorous lingerie photo gallery shoot, Ellie A. enjoys a VS 120 as she checks her phone and takes a few selfies. There are deep drags, mouth and nose exhales, double drags and dangles, and an incredibly sexy look. Then Susan B. is in leather top, schoolgirl skirt and pink shoes as she models while smoking a VS 120 in this high-res set – showing lots of smoke play and seductive looks.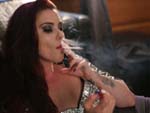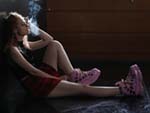 In the video gallery Charli's back at it again! This time she's working with Marilyn in a sexy scene, giving her a VS 120 (as she smokes a cork 100) and teaching her to inhale properly. The duo then returns in a casual shoot, as Charli shares a Marlboro Menthol 100 with Marilyn and shows off her smoking skills; Marilyn takes a few drags, but spends most of the time watching Charli and absorbing the lessons.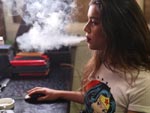 You can see a sample clip here.
Come join us!