8/1: New this week at Smoke Signals Online…
This week at Smoke Signals Online, the net's original and largest smoking fetish site, we've added 1842 new photos and 19 minutes of video.
In the photo galleries we've dug out a real gem from the archives, featuring young Erin P. and Tash in two of their very first shoots for us. Smoking all-whites, they show off thick mouth, nose and combined exhales, smoke rings, double drags and talking exhales – and are just as expert at the techniques as they were later on in their smoking video careers. Then Ellie A.'s taking her time in the dressing room, and we have two long photo gallery shoots as a result. Enjoying Marlboro 100s, she touches up her makeup, does her nails, takes a few selfies – and shows us mouth and nose exhales, snaps and frenches, dangles and double drags.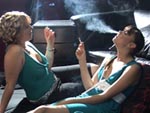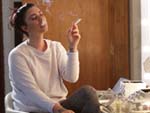 In the video gallery, Charli smokes a B&H 100 as she does her hair and makeup, showing off fantastic hands-free smoking along with mouth and nose exhales, french and snap inhales – but she's bored, and calls Tiffany C. to come over and have another cigarette with her. Actually, Tiffany has several Marlboro 100s while Charli counters with a VS 120; there's a little makeup work, a little play with smoke rings, and finally a few sexy smoke exchanges in this long and satisfying shoot.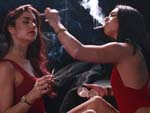 You can see a sample clip here.
Come join us!