7/15: New this week at Smoke Signals Online…
This week at Smoke Signals Online, the net's original and largest smoking fetish site, we've added 1834 new photos and 19 minutes of video.
Charli smokes a B&H 100 in the photo galleries as she does her hair and makeup, showing off fantastic hands-free smoking along with mouth and nose exhales, french and snap inhales – but she's bored, and calls Tiffany to come over and have another cigarette with her. Actually, Tiffany has several Marlboro 100s while Charli counters with a VS 120; there's a little makeup work, a little play with smoke rings, and finally a few sexy smoke exchanges in this long and satisfying shoot. Then the duo returns for another session of smoking, chatting and cuddling. We also have a cool bonus shoot that Charli wanted to do before heading home. It's Marlboro 100s, a hot look (leather jacket and hat and lots of dangles), along with snaps and thick mouth exhales.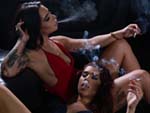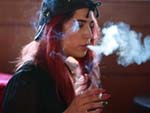 In the video gallery, Susan B. sparkles in two shoots with Marlboro 100s, first in a robe black bra and panties, then in an open-necked checkered dress. We see great mouth and nose exhales, snaps and lots of french inhales, dangles, and some cool smoking in glasses. She also chats with the cameraman about her smoking and sexual preferences.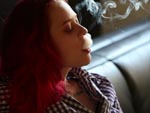 You can see a sample clip here.
Come join us!