3/1: New this week at Smoke Signals Online…
This week at Smoke Signals Online, the net's original and largest smoking fetish site, we've added 1120 new photos and 19 minutes of video.
In the photo galleries, Brigitte is relaxing on the couch with a Newport 100, in bra, panties, boots and an open shirt. There are mouth and nose exhales, snaps and frenches, smoke rings and a classic look.
Then a topless Mel L. reminds us a little of Cleopatra – except we don't think that Cleopatra surfed a cellphone, and we're definitely sure she didn't smoke VS 120s, and we're sure she didn't show deep drags, slow mouth exhales and beautiful recycled french inhales. Mel does, though.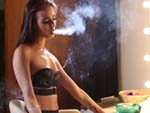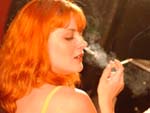 It's black bra, white shorts and Marlboro 100s for Charnay in two video gallery shoots, as she gets more of a chance to show off her beautiful smoking; in the first scene she does some work on her makeup and hair, in the second she just relaxes and chats, telling us that she got into smoking so she could do "smoke tricks." We see mouth and nose exhales, dangles and smoke rings, and a pretty natural slight french inhale.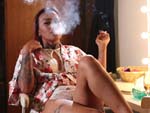 You can see a sample clip here.
Come join us!