5/15: New this week at Smoke Signals Online…
This week at Smoke Signals Online, the net's original and largest smoking fetish site, we've added 641 new photos and 18 minutes of video.
In the photo galleries, adorable Miri checks out her collection of sexy, lacy lingerie as she enjoys cork 100s, with deep drags, thick cone exhales, snaps and lots of dangles. Then we have Elena A. with her all-whites, her huge boobs and anxious fingers – you can guess what happens next. The deep drags and thick exhales are gorgeous, too.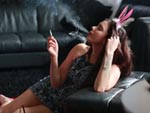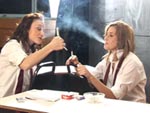 Kim B. is in black lingerie with bedroom eyes in the video galleries, as she enjoys several cork 100s.
There are oodles of mouth and nose exhales, snap/french inhales, hands-free smoking – and of course, her picture perfect mouth/nose exhales. Then Katie C. is in full pin-up mode (sexy bra and panties with garters, stockings and boots), reclining on her couch with an all-white and showing glamorous, thick cone exhales after her deep inhales.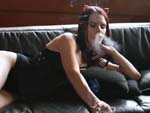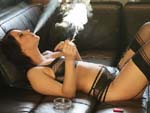 You can see sample clips here and here.
Come join us!