11/22: New this week at Smoke Signals Online…
This week at Smoke Signals Online, the net's premier smoking fetish site, we've added 429 new photos and 11 minutes of new video.
In the photo galleries, Sara P. (with crazy blonde hair) sips wine and smokes a VS 120 in her sundress, with an unusual (for her) sedate style featuring french inhales, slight open-mouth and snap inhales, and slow mouth exhales. Then Mel L. smokes in the car, with nice slow, oozing exhales as she watches you watch her.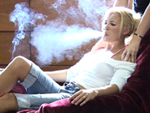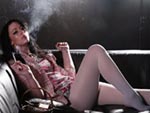 In the video gallery, Steph A. (Newport 100s) and Red (all-white Camels) enjoy several cigarettes as they strip down to their lingerie and then take off their bras, to play with their pussies through their panties. Steph shows great style with deep drags, snap inhales and big cone exhales; Red has a natural french inhale/waft that's very unusual.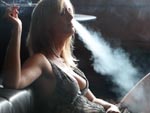 You can see a sample clip here.
Come join us!