7/1: New this week at Smoke Signals Online…
This week at Smoke Signals Online, the net's original and largest smoking fetish site, we've added 1623 new photos and 18 minutes of video.
Susan B. sparkles in two photo gallery shoots with Marlboro 100s, first in a robe black bra and panties,
then in an open-necked checkered dress. We see great mouth and nose exhales, snaps and lots of french inhales, dangles, and some cool smoking in glasses. Then in a shoot that's a bit unusual for Charli, she's dyed her hair red and is working at the computer as she enjoys a VS 120. We see great hands-free smoking,
along with snaps, smoke rings and cone exhales; and after she finishes her 120 she decides she needs something quite a bit stronger, so she lights up a Newport 100.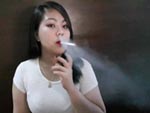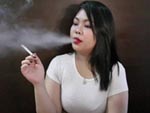 Here's a treat for the video galleries: we've dug up more archive footage of teen super-smoker Maddie. She is scintillating in role playing scenes, promising one-on-one smoking sessions as she teases. Maddie smokes a Black Russian, a red Fantasia, a More and an all-white in great medium closeups, with her
always-tantalizing huge drags and enormous snaps, frenches and smoke rings, nose exhales and double drags
(including dangling double drags). It's another tour-de-force. Then Aymie returns with another Marlboro 100 to check out her lingerie and accessories, of course showing her sexy smoking style – with a ton of dangles.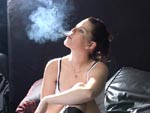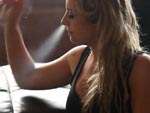 You can see sample clips here and here.
Come join us!